International Women's Day (March 8) is a time to celebrate women's history, culture, achievements, equity, and much more. If you are looking to be a part of the celebration and show your support, check out this list of local Pittsburgh events happening in the month of March!
Women in Business Luncheon Sponsored by Brentwood Bank
Join Brentwood Bank March 8, 2023 at Gaetano's Banquet Center from 11am - 2pm to celebrate women in business!  This event will feature local vendors and speakers, and will be an inviting space for networking and building relationships. This event is also featuring local business consultant and growth specialist Connie Capiotis. There is a limit of 100 registrants, so grab a spot here!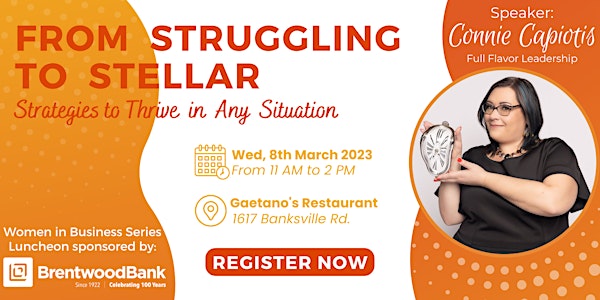 Virtual Run Event by Moon Joggers
This virtual event begins March 5 and finishes March 31, and features a 1M, 5K, 10K, 13.1, 26.2 virtual run (or walk) to celebrate International Women's Day! For registration and event information, click here!
The Seventh Annual Women and Transformational Leadership Symposium
RMU will be hosting this event March 24 in the UPMC Events Center at Robert Morris University, and is free with an RSVP! This event features women leaders in our region and topics that impact the region's move toward gender equity and the advancement of women. Visit their page for more info!
The Brunch Club: Women's History Month
On March 25, join Social Status from 1pm-3:30pm at their East Liberty Location for a brunch to celebrate women!  Registration and event information can be found here.
Dress for Success Pittsburgh
Stop by on March 8 to celebrate women with an open house and networking reception!  Here you can learn about the impact of Dress for Success, network, enjoy snacks and refreshments, and join a raffle!  For location info and more, click here!