Growing up, I used to be the biggest soup hater. I didn't like the concept of drinking part of my meal; vegetables were never a good enough reward for struggling to get pieces on my spoon, and mixing a ton of different flavors in a single pot went against my need to eat every portion of my meal separately. However, when I moved to Pittsburgh and met my husband who grew up on nothing but soup in the mountains of Pennsylvania, my view on the dish slowly changed, and I began to appreciate the cozy and versatile comfort meal that can be literally anything you're in the mood for!
With this week's winter storm, I asked my fellow Dream Team members which soup is their favorite to keep them warm through these wonderful winter days in the Burgh.
Potato and Red Lentil Soup

This 
Potato and Red Lentil Soup
 is one of my personal favorites - which is pretty impressive because it was just recently introduced to me! It's super flavorful and packed with great nutrients. It's versatile and can be kept as a relatively mild vegan soup, but it can also be spiced up by adding fresh jalapeños or carnivorous with some seared pork or rotisserie chicken. You can stir yoghurt into it for a creamier soup or add more liquid to highlight the broth!
Italian Wedding Soup
When I first moved to Pittsburgh, I started working at a large, national chain restaurant that serves Italian food. While working there, I learned about Italian Wedding Soup for the first time. The funny part about it was that only the restaurants in the Pittsburgh area serve Italian Wedding Soup! It's not a part of their national menu; it's just there to specifically satisfy the soup cravings of their local Pittsburgh patrons. So Lexi sure showed her true Pittsburghese roots when she sent me a recipe for homemade
Italian Wedding Soup
(and I assure you it will taste better than any Wedding Soup offered at any large chain restaurant)!
Brunswick Stew
Allee's choice of soup also shows off her roots--the North Carolina famous 
Brunswick Stew
. And let me tell you: if we base the people of NC on just this soup recipe, they appear to be the heartiest, warmest and most flavor-loving people in the country. It's wild to think that this soup would traditionally be made with squirrel, rabbit, or opossum. I think I'll stick to the modern version and use pork and chicken for this one.
Hungarian Mushroom Soup
Picture this: It's a typical misty day in Western PA and your pup has convinced you to take him on a hike in Schenley Park to get those endorphins pumping. After a few miles, you decide it's time for a break and you pull out your thermos filled with this delicious
Hungarian Mushroom Soup
suggested by Cheryl. The combination of earthy and creamy is perfect for the forest setting you find yourself in with the warmth of the soup lingering to keep your spirits up - even as the rain starts pouring just in time for you to start your hike back to the car.
Lemon Chickpea Orzo
There are many parents out there that can relate to the struggle of dealing with sick kids. Typically one would hear that chicken noodle soup is the best cure for a cold, but I can totally imagine Amber cooking this amazingly cozy 
Lemon Chickpea Orzo
soup for her kids when they don't feel well, instead. It is hearty, citrusy, and vegan - the perfect combination for recovering kids (and adults).
Pumpkin Ginger Soup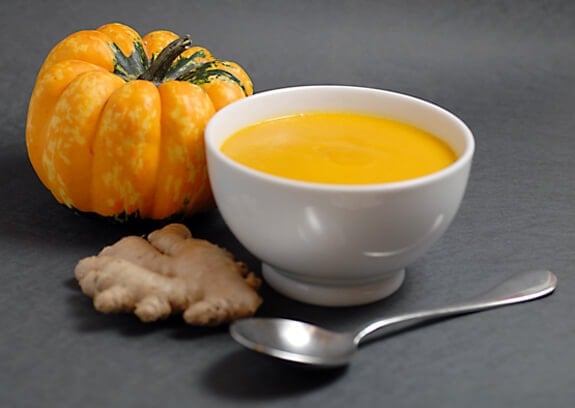 Fall is a time to celebrate seasonal vegetables like pumpkin, but that doesn't mean that pumpkin has to be off the menu during winter. Kelly Y sent me this
Pumpkin Ginger Soup
recipe that immediately made my mouth water. While chunky soups are great, there's nothing quite as fancy-feeling as adding that extra step of lovingly blending your soup to a smooth and creamy
consistency that warms you down to the very soul.
Pasta e Ceci
Lauren takes our culinary journey back to Italy with this
Pasta e Ceci
 recipe. While there are as many versions to this soup as there are cooks, this recipe provides an awesome variety of perfectly portioned ingredients. Get your fresh Parmesan or Romano (or both!) out and start grating - this soup is sure to take you on a tour of Italy.
Pozole Rojo de Puerco
When I want to ensure total authenticity of the food I cook, I try to find a local recipe in the language of the country where the soup originated. I then have to struggle with translating the recipe in a translation app before I'm even ready to get the ingredients! This would be the case for the traditional Mexican 
Pozole Rojo de Puerco
soup, but the super talented and dedicated Nohemi translated it for us before she sent it!
 See the translated version below:

Pozole Rojo de Puerco (very famous in Mexican Culture)
2.5 lbs of Hominy
1.5  onion
1 garlic head
2 bay leaves
oregano
Two small bunches of thyme branch
1.5 lbs of pork leg
2.5 lbs of pork backbone (cut into small chunks)
1 / 4 lb of ancho chili peppers, deveined and seeded
1 / 4 lb of guajillo chili peppers, deveined and seeded
For the side to add on while served:
(optional) 3 Arbol chili peppers
1 / 2 Romaine lettuce finely chopped
10 radishes finely sliced
5 limes cut in half
Chopped onion
Spicy salsa
Tortilla chips to enjoy with the pozole
Step 1:
In a pot add hominy, onion, garlic, thyme, bay leaves, oregano, 5 liters of water on high until brought to a boil. Change to medium for 45 minutes to 1 hour – until the hominy pops and gets bigger in size.
Step 2:
Meanwhile put the chili peppers to boil until soft. Blend the chili peppers with water and strain.
Step 3:
Rinse all the meat and add to pot once hominy has popped along with the strained chili peppers. Now you can add as much salt as you'd like. Cover and cook for two hours. Throughout the two hours remove the foam that gets created at the very top.
Step 4:
This is where you would take out the meat if you were unable to chop into small chunks, you take the meat out now to chop.
Take out the herbs, onion and garlic.
Put the meat back in the pot.
Step 5:
Taste for Salt and add if needed.
Cover again and cook in low until meat is soft.
Step 6:
Serve your Red pozole, top with lettuce, radishes, chopped onion, lime, arbol chilli pepper (optional) and oregano. Lastly, enjoy with tortilla chips!
 Just wing it!
Your soup can literally be made up of anything! Kelly S. didn't have a specific recipe to send me because in her house they wing it:
"When making soups it starts with a base of vegetable broth, with whatever vegetables found in the fridge. Chopped veggies simmer with a good grinding of Steel City Salts Garlic And Herb Blend. Then we will add either pasta or rice to make it hearty. Served with Parmesan shavings and a side of buttered and toasted baguette."
And that's the beauty of soups - you don't really need measurements, and it's OK if you're missing an ingredient. You can take out liquids and turn it into a stew, or add a ton of extra broth for slurping. You can keep it chunky, or blend it to smoothness. Do what you want! Soup has no rules. Soup doesn't judge.
Stay warm, everyone!